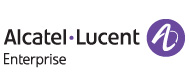 Welcome to the ALE Deutschland GmbH DokuWiki
(Dies ist das englischsprachige DokuWiki, für deutschsprachige Artikel klicken Sie bitte hier.)
Follow me on

for updates and new articles!
In this DokuWiki we'll publish news about our data solutions or tipps with regards to software features.
---
Documentation / Recommended AOS Software Version / Visio Stencils
Impress
Showroom
Take a tour through our virtual showrooms!
---
TechTips
We publish TechTips that we believe are interesting for our business partners / customers. Please note that this is not the official Technical Support. To open a Service Request kindly contact our Alcatel-Lucent Welcome Desk through our BusinessPortal, via email EBG Global SupportCenter or via telephone +800-00200100.
AOS Release 6
AOS 6.4.x
AOS 6.6.x
AOS Release 7
AOS 7.3.x
AOS 7.3.2
AOS 7.3.3
AOS Release 8
AOS 8.1.1
Wireless LAN
AOS-W Instant
OmniVista 3600 Air Manager
Validated Reference Design
Network Monitoring of OmniAccess and OmniSwitch with Nagios Core